Cleaning after a home improvement project is a large task within itself, but this is made more difficult when you have to consider the different systems for waste removal.
All forms of home improvement tasks can result in debris, waste, and general trash that needs to be removed, and it is very likely going to be too much for your standard household trashcan. Household waste and debris can also be heavy, which makes it difficult to remove from your site unaided.
Taylors Island, Maryland customers have relied on Eagle Dumpster Rental to provide effective waste management solutions for the past two decades.
No matter what you are doing to your home or what you are throwing away, the best waste removal solution for you will be the easiest thing to do. You want to make things easy for yourself when it comes to waste removal, as this will keep your site safe throughout the project.
For household waste, you have two main options for removal: renting a dumpster or going to the dump. In this guide, we are going to discuss which is the better option for you.
Dumpster Rental Vs. Visiting The Dump: The Basics
When deciding between renting a dumpster or going to the dump for the best waste removal option, there are three important factors you need to consider:
Hauling Capacity

Amount of Work 

Convenience
With these in mind, we can take a closer look at both options to see which is best for your needs.
Which Waste Removal Method Is Best?
Dumpster Rental
When it comes to renting a dumpster from a local company, there will typically be several options of containers for you to choose from. 
At Eagle Dumpster Rental, we have several container sizes available to rent, which can haul an average of between 2,000 and 20,000 pounds meaning there will be a dumpster for your needs, no matter what they are.
Working on a home improvement project of any size will take a lot of time and effort. This is why you need to make waste removal as easy as possible, so it is something you can maintain throughout the process.
Renting a dumpster can make things incredibly easy when working on your home, as a dumpster will be delivered to your site. Dumpster rental companies offer various rental periods for their containers which is how long you can have access to the container. 
With a dumpster on your site, you can simply walk to the driveway to dispose of trash or throw items from your home into the container. The dumpster can be used until it is full and with varying sizes available. This can be a large amount of waste.
With a dumpster on your site, you can fill the container with the trash as you work, and you will be able to do this for as long as the rental period is or until the container becomes full – whatever happens first.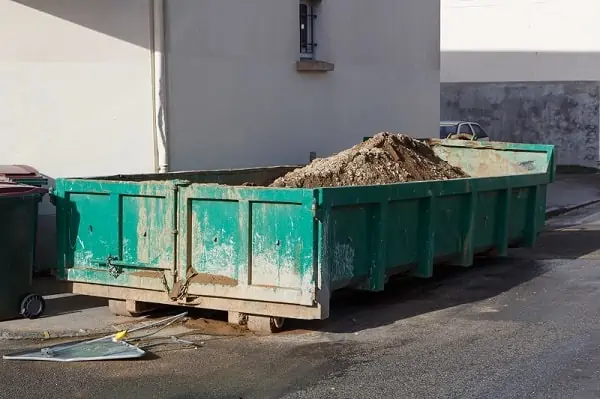 If your container has become full before you have finished using it, another dumpster can be delivered to your site when the rental company comes to pick up the first one to provide ongoing waste removal.
All forms of waste can be thrown into the dumpster as you work, keeping the site clean and safe at all times. Once the container is full, it will be collected from your site by the dumpster rental company, which will then dispose of the waste safely.
Going To The Dump
To take waste to the dump, you will have to use a pickup truck. 
You can rent pickups from various local services, and the capacity will differ depending on what is available. On average, a pickup truck can handle around 1,000 pounds (half a ton) of debris.
If you have more than 1,000 pounds of waste, then you will have to make multiple trips to the dump in your pickup truck,
Collecting waste for the dump also means you have to keep your site organized as there is no specific area for debris to go. You will need to dedicate some area for waste which can make things tricky to manage along with all the other work you have to do.
Disposing of household waste and debris by going to the dump can also be made more difficult by the opening hours of your local dump. There may be times when the dump is closed which means you have to leave debris on your site for longer than you desire, which can make things difficult when trying to stay organized.
Going to the dump can be easy if you live close to your local dumpsite. However, if you are some distance away from this site and need to make multiple trips, then it can not only take a long time to remove waste from your site, but it can also cost a lot of money to do so.
Taking waste to the dump also means you will have to take breaks from your work as you have to leave home.  
Summary
With these three main areas in mind, renting a dumpster is certainly the easiest option for all home improvements.
As one of the leading dumpster rental companies in the United States, Eagle Dumpster Rental can serve counties across the nation and offer containers of varying sizes to suit all needs.
© Copyright 2023. All Right Reserved.