There are a lot of things that go into a construction project, and one of the most important areas to consider is waste disposal.
While you may be more concerned with getting together tradesmen, organizing the site, and constructing a timeline for your project, waste disposal is not something you can leave to the last minute.
Hiring a construction dumpster is a great way to get rid of debris, waste, and excess materials from the site with ease. However, finding the right kind of dumpster to rent is not so easy.
There are several major options when it comes to dumpster sizes, and each has its own set of regulations and restrictions. This means that some containers will be better suited to your construction project than others.
If you are looking into renting a dumpster for construction projects, this is the ultimate guide to everything you need to know about this process.
About Dumpster Renting
Dumpster rental companies offer both residential and commercial containers, which means they will have several dumpster sizes on offer.
Dumpsters can range from a 10 yard dumpster to 30 yard or 40 yard dumpsters, depending on the rental company you go through.
The dumpster rental company should have a good range of commercial dumpsters that have been specially made for large projects and hauling construction debris. A roll off container is best suited to the removal of construction debris, as these dumpsters are made for larger materials and can handle a lot of weight.
During your rental of dumpsters, it is important to spend time researching which size dumpster will be best for your needs. Smaller roll off dumpsters such as a 20 yard dumpster will not be able to hold large construction debris or materials like a 30 yard dumpster would, which can result in an overflow, causing additional service fees being added to your total bill.
For more information regarding the best size dumpster for your needs in Washington D.C. please call us to discuss your options.
How To Choose The Right Dumpsters For Rental
Dumpster rental in the area of Washington D.C. can be a complicated process, as you have a lot of options available.
Hiring a roll off container will make waste disposal from the demolition site easier to manage and safer to do, as dumpsters can handle a lot of waste at one time. Also, when you go through dumpster rentals, several other kinds of service can be provided, such as the delivery and removal of the dumpster and waste materials from the site.
Waste removal from a site can be an expensive ordeal, which is why we would recommend researching the different yard dumpsters that are available in your area and how they will work with your project first.
Failing to plan can result in hiring the wrong sized dumpster, which will not only make waste removal dangerous as dumpsters are made to handle specific load weights, but it can also be an expensive mistake to make too.
When you rent a dumpster, you need to make sure that you consider the dumpster dimensions and how they will work with all the debris that needs to be removed from the service area of your project.
There are four sizes of roll off container that you can choose from:
10 Yard Dumpster
20 Yard Dumpster
30 Yard Dumpster
40 Yard Dumpster
If you require a smaller dumpster, please call us as we can arrange additional sizes, such as a 15 yard dumpster based on what we have available in your service area of Washington D.C.
When working out which dumpster dimensions are the best fit for your construction project, you will need to consider the volume of debris that will be removed, the kind of materials within it, and the duration of the construction project.
It is possible to hire dumpsters for a short or long term.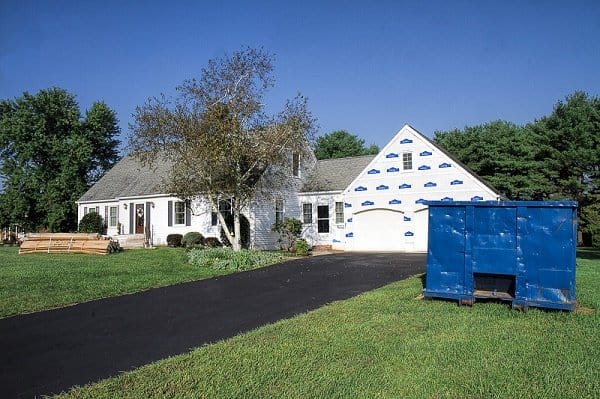 How Much Is Dumpster Rental For Construction
Dumpster rental can differ greatly in price based on the rental company that you choose. In Washington D.C, there is an average cost of dumpster rentals for each variation of dumpster dimensions.
Dumpster rentals can cost:
10 Yard: Average Cost $300
20 Yard: Average Cost $380
30 Yard: Average Cost $440
40 Yard: Average Cost $480
If you are looking to rent a dumpster, please call us to see what prices our service can offer based on the dumpster dimensions you need, the construction project you are working on, and what kind of rental period you require.
When it comes to considering dumpster rental prices, it is generally more cost-effective to hire the biggest yard dumpster that is available from the rental company.
This will allow for additional waste and debris that can be made during a project, as not everything can be planned for, and will prevent you from having to deal with overage charges should you go over the limits.
How To Estimate What Dumpster You Need
The key to saving money and having a successful dumpster rental experience is planning. This means taking the time to consider and plan for the waste that will need to be removed from the site, as this will inform you of what kind of dumpster you need.
As we have mentioned, planning for the size of dumpster that is required will ensure that waste can be removed safely from the site and will prevent overage fees.
All dumpsters are categorized by the cubic yards they can hold in volume. To estimate what size dumpster you need for your project, you need to be able to work out how many cubic yards of waste will be produced.
This can be a tricky process, which is why we always recommend going for the largest size dumpster available to accommodate for excess waste and debris.
If you do want to estimate what size dumpster you need, then you need to know:
One tonne of demolition debris equals approximately two cubic yards, based on estimates.
For large demolition projects, such as with industrial buildings, hiring the largest roll off dumpster is the best option. Some companies will be able to offer a 50 yard dumpster, but a 40 yard should be just as sufficient if this is not the case.
The size of the dumpster required will also differ greatly depending on the kind of waste that is being produced.
For example, for clean-loading heavy debris like concrete, shingles, or sand, a smaller dumpster will be sufficient. A 20 yard dumpster will be best for this kind of waste, as it is high-density and low volume, which means that it is easier to handle when in a compact container.
This is something that will be recommended to you by the rental company, as most will require the use of their smaller containers for heavy materials as this is the safest way to handle this kind of waste.
Key Considerations To Make For Dumpster Rental
You must plan properly to make the right decisions when it comes to dumpster rental, as this will allow for a safe, smooth workflow.
The cost of waste removal is something that can be prepared for with accurate planning, but there are other benefits too.
Before hiring a dumpster for demolition projects, you should also consider:
1) How it will improve efficiency in workflow
With efficient planning, you can ensure that work will not be interrupted or held back while waiting for dumpsters to either be delivered or to be picked up from the site.
This is why you will need to discuss your schedule with the rental company to ensure that there are no cross-overs to ensure a smooth transaction.
Together, you will be able to plan the best delivery time for the dumpster, the rental period that suits your work, and when it will need to be collected for waste removal. There are plenty of waste removal services in this area, so make sure to choose one that can meet your needs.
2) Safer working environment
Waste disposal can cause a lot of havoc with health and safety, which is why you need to get it right. Being able to dispose of waste, debris, and excess materials immediately with an on-site dumpster is much safer than allowing the waste to pile up.
As a contractor, safety should be your number one priority, which is why not only is hiring a dumpster very important but getting the right size is too.
3) Know what you need
As we have mentioned, the best way to estimate what size dumpster you will need is to consider what waste will be produced.
Understanding the details of the building project you are working on will make it easier for you to hire suitable dumpsters, allow you to determine how long the rental period should be, as well as how many containers will be needed at one time.
All of this pre-planning will ensure a safe working environment on site; encourage smooth sailing on the project, and prevent overage fees.
© Copyright 2023. All Right Reserved.