When you are looking for a dumpster to rent, there are various things you have to consider. The rental of a dumpster can be quite an expensive feat for homeowners and construction companies, so you want to make sure you are getting the best deal possible.
While the expense of dumpster rental can be great, the benefits when it comes to saving time and helping your project run smoothly are just as important. Being able to remove a lot of waste from your project site is a valuable service that can save you time and effort as well ensure that you can work safely without debris building up.
Finding cheap dumpster rental may be possible in your area, but the cost of a dumpster for rent is not the only thing you need to consider.
How Much Are Dumpster Rentals?
The total cost of the rental of dumpster will vary based on the company you use, your location, what kind of project you are working on, and the rental period.
The size dumpster that you choose to hire will also impact the price. There are several dumpster sizes available to rent, based on the kind of project you are working on and how much waste will be disposed of.
A 20 yard dumpster is the most common for homeowners to rent, so we will be using this size dumpster when creating average prizes of rental.
Dumpster rental prices can vary a lot based on certain factors. The dumpster size and rental period are perhaps two of the biggest influences to the cost of the rental, as a smaller dumpster over a short period will not cost as much as a 50 yard dumpster over several weeks.
While there is no flat rate when it comes to dumpster rental, as each company offers a unique service and what they offer may impact the cost of the rental, it is possible to work out how much you will need to spend when you need to rent a dumpster.
What Am I Paying For With Dumpster Rental?
The reason why renting a dumpster can be so expensive is because you are paying for several different kinds of service in one.
Not only does the size of the dumpsters impact the cost, but so does:
The rental period, which is how long you will have the dumpster
The delivery/pickup fee, which will differ based on location
Your location, as there is no flat rate across states or cities
The allowable weight of the dumpster
The kind of debris you are throwing away
Dumpster rental companies typically have restrictions on the kind of debris that their containers can be used for, which is something you will have to discuss before getting a quote.
Dumpsters can be used for a range of materials and debris, as long as it is not hazardous and does not exceed the weight limit. If you overfill the dumpster, you will face overage fees, which will increase the cost of dumpster rental.
When you ask for a quote from a dumpster rental company, make sure they are telling you the cost of all their service. Some companies may only offer a quote for the delivery and the dumpster size when in reality, you will also be charged for the pickup too.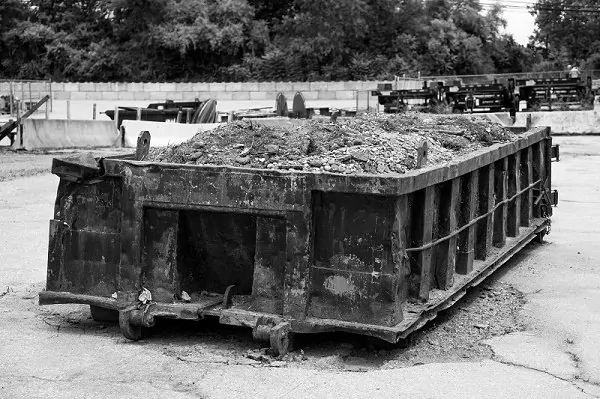 What Size Dumpster Should I Rent?
The size of the dumpster that you choose to rent will impact the total cost of service. Dumpster rentals can differ greatly in price based on the size of the container you use.
It is important to plan and estimate the right sized container for your needs, as this will ensure that all waste can be removed from the site safely, and you will not be faced with overage fees.
Failure to plan can result in the dumpster becoming overfilled, which means it cannot be removed safely. If this happens, you will have to pay overage fees, which can be up to $100 on top of the cost of rental or you may even have to pay for an additional dumpster.
There are several sizes of dumpsters available to rent. Here are the average dumpster rental prices for each:
This kind of container has average dimensions of 12 x 6 x 4 foot (L x W x H) and can hold approximately 2 tonnes of weight. The average cost is $300.00.
This kind of container is 22 x 8 x 4 foot on average and can hold approximately 2 to 3 tonnes, based on the company. The average cost is $380.
This kind of container is 22 x 8 x 6 feet in average dimensions and can hold 4 to 5 tonnes in weight. The average cost is $450.00.
If you require a dumpster larger than a 30 yard container, these may be available based on the company you use. The above costs to rent a dumpster relate only to the container itself, not the additional costs of service that will be added to your bill.
Should I Get The Cheapest Dumpsters For Rental?
Trying to save some money when looking into dumpsters for rent is never a bad thing, and if you can find a company that offers the cheapest service near you, then you should go for it.
However, when looking into a dumpster for rental, there is more than the cost to consider.
To get the best deal when renting a dumpster, you also want to ensure that you are getting a great service. With good customer service, you will get the best deal and the easiest experience.
A lot of work goes into dumpster rental, and you will never just pay a flat rate for the container. Instead, you will also be paying for the cost of delivery, pick up and other conditions based on your location and needs.
With a great rental company, you can ensure that your work will run smoothly and safely, which will offer peace of mind. This is something money cannot buy!
© Copyright 2023. All Right Reserved.