When you want to remove junk and waste from your home, there are two methods that stand out from all of the other options you have. The first is normal waste removal, where you load up your car or truck and take the debris out to a dump, and the second is hiring a dumpster to help with larger-scale debris disposal. Both can be a reasonably accessible option for almost any kind of debris, waste, or junk removal, but how much do they actually cost compared to each other?
How are the prices different?
There is a removal cost associated with both options, but the fees come from very different things when you put them to a cost comparison. When performing waste disposal yourself, you are usually paying for fuel, dump fees, extra trips (if you can't fit all of the junk into your vehicle at once), and the amount of time that you are taking up to deliver the debris.
By contrast, when you are renting a dumpster, you are basically paying for the dumpster itself and any late fees or overage fees that might come from it. There is no need to pay any dump costs, and you aren't expected to cover the fuel costs either, so you are usually only paying the price of the dumpster and any other delivery costs the company associates with it.
How much does renting a dumpster cost?
There isn't a set price that you will pay whenever you rent a dumpster like any rental, the price can vary depending on the size of the container you need, the amount of time that you need it for, the overall limits that the rental company has put in place, and sometimes even just your ZIP code. Each dumpster rental company has its own way of handling the prices, which can make trash removal through dumpster rental services feel much more complicated than it actually is.
When dealing with a dumpster rental, you need to be aware that trying to rent a dumpster won't always cost the same amount. A single company might have dozens of dumpster options, each priced at different levels due to their size and any specialized extras they have. Even once you are renting a dumpster, the late fees or weight limit costs can vary between each dumpster type they offer, too. Contacting the dumpster company via phone, email, or in-person meetings can help you get an idea of what you might need to pay, at least.
For example, a 10-yard dumpster will often be valued at far less than a 20-yard dumpster, with 40-yard dumpsters being the most expensive of all. While the company can haul away the containers and the junk inside regardless of size, the cost to actually rent one increases as they get larger.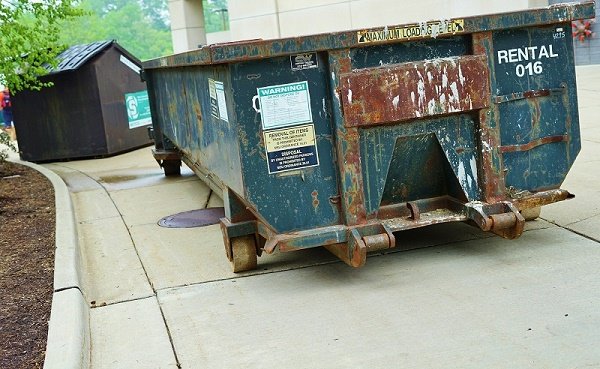 How much does in-person junk removal cost?
Choosing to get rid of debris and junk by yourself can seem cheaper, but only in a financial sense. One of the significant benefits of dumpster rental vs. junk removal is the fact that renting a dumpster doesn't force you to spend time and effort moving the debris to a dumping spot. Without a removal company, the highest added cost is the amount of time that it can take.
For example, let us say that an hour of your time is worth around $50, and you have to take a day off work to complete the junk removal. If it takes you four hours to gather the junk and make multiple trips back and forth due to the capacity of your vehicle, you could end up missing out on $200 worth of time. This also doesn't count dumping fees and fuel costs, as well as any damage that you might accidentally do to the vehicle that could need repairs.
Which should you use?
The issue of dumpster rentals vs. junk removal service can be a difficult one because the two are equally good in different situations. Both can help you get rid of large amounts of junk, and the two options are relatively similar in how they handle the waste. They can even reach a comparable price depending on the exact situation you are in and the amount of waste junk you need to dispose of.
Removal Company
If you are going with a dumpster rental and junk removal service, then make sure you get the prices right. A certain dumpster rental might be twice as pricey as another one, even if they look similar and have similar-looking capacities. Other than that, though, most junk removal companies are more than happy to help deal with junk and waste regardless of how much you have, as long as you don't exceed the dumpster limit.
If you do put too much in a dumpster, or add too much weight, the junk removal company will have limits in place. This can result in added fees from the junk removal process, and might even stop them from carrying out the junk removal at all.
Removing Junk Yourself
When it comes to dumpster rental vs. junk removal, some people prefer to handle junk removal themselves. This can be a great option if you only have a single trailer load or a truckload of junk that can easily be moved from place to place. It also allows you to break up the process if you are dumping the waste as you go.
However, if you already have a lot of trash to get rid of, it can become much more expensive over time than simply using a dumpster, especially if you keep having to use up your own time in ways that prevent you from getting other things done.
Whichever junk removal option you choose, remember that junk removal is going to be different for every person and in every situation. Just because one person has a cheaper alternative doesn't mean that it will be that way for everybody, so make sure that you do the proper research and find the best fit for your location and the type of waste you need to be removed.
© Copyright 2023. All Right Reserved.