A dumpster can be a vital piece of equipment, but you want to be sure that you are using the right dumpster for the job. There are multiple different common dumpster sizes, as well as various inter-sized dumpsters that all have their own dimensions and particular designs.
Roll-off dumpster rentals in Sharptown, Maryland are affordable and hassle-free because of your local experts at Eagle Dumpster Rental.
When you are handling some important construction work or trying to set up a DIY project, it helps to have the right dumpster size for the situation. Something too small might not be able to hold all of the debris in one rental, while something that is too large can be an unnecessary hassle (and expense).
How do I know what size I need?
Choosing a good roll-off rental dumpster for your clean-up or DIY job depends on what kind of debris and trash you will be dealing with. The capacity of a dumpster is measured by cubic yards, a rough measurement of how much they can safely contain before the debris begins to spill over the edge.
You want to keep the total capacity of your dumpster higher than the amount that you are throwing away. Even if you can fit more into a dumpster than the total capacity, you still shouldn't since dumpster rentals come with weight and capacity limits that control how much they can hold.
For example, a dumpster that holds 10 cubic yards of debris can generally hold around 50 to 70 bags of trash. If you overload it and let the bags pile up too high, then you might be directly violating the dumpster rental since the contents are spilling over – earning you a fine.
Estimated Dumpster Sizes
There is not a single direct way to estimate how much debris a dumpster can hold in practical terms, especially if you are taking debris from multiple projects at once. However, you can at least get a grip on the rough estimates of how much they can take, as well as the limits you might be under.
10 cubic yards is about 50-70 bags of trash.

15 cubic yards is about 80-100 bags of trash.

20 cubic yards is about 110-130 bags of trash.

30 cubic yards is about 170-190 bags of trash.

40 cubic yards is about 230-250 bags of trash.
This can be a good way to estimate the overall amount of trash that you will be able to fit inside a dumpster, based on the total capacity it offers. Of course, this is only the capacity – not the dimensions.
Why Dumpster Dimensions Matter
The larger a dumpster is, the more it can hold, but the more expensive it will become. A larger dumpster also takes a larger vehicle to deliver it, and it can be harder to fit into tight spaces or areas that other vehicles need to pass through on a regular basis.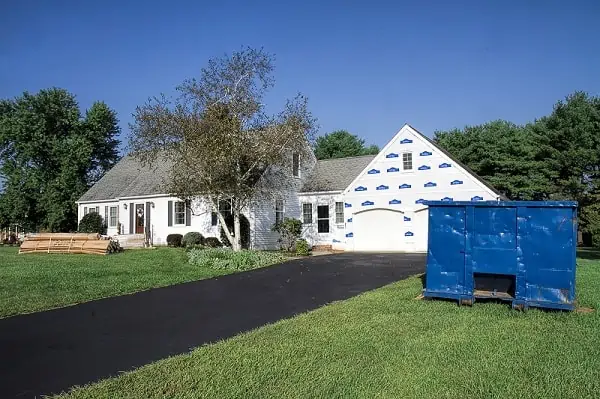 This means that some people with limited available space will hire two smaller dumpsters, one after the other, instead of a single larger dumpster. On the other hand, a larger dumpster can work better for fast-paced and debris-heavy projects.
The wider and/or taller a dumpster is, the more it can hold on average, so larger dumpsters tend to have increasingly higher limits for what they can contain.
Which Dumpster Should I Use?
Knowing the basic types (or sizes) of dumpsters available at companies like ours can help you make the right choice when the time comes. If you are getting an Eagle Dumpster Rental dumpster delivered, then you want it to be the option that suits your needs best.
10 Cubic Yards
A 10-cubic-yard dumpster is meant for short-term and smaller-scale projects, whether that is cleaning out a room, remodeling your bathroom, or getting rid of concrete from paved areas. These are best for one-person DIY jobs where there is not much to throw away.
They can also work for getting rid of old furniture or just for clearing large amounts of trash and debris away if it has begun to build up.
15 Cubic Yards
15 cubic yards gives you enough space to remove some bulkier items and materials, as well as larger amounts of debris. This might suit a room renovation or something more specific, like the complete removal of a larger area of flooring. 
20 Cubic Yards
20 cubic yards is one of the more popular choices for people doing major work, whether that is replacing roofing, landscaping, or even doing smaller construction projects. There is enough space here to easily get rid of a lot of materials at once, but the dumpster is not too big for solo projects.
Dumpsters of this size are the first step into the 'oversized' range: the kind of dumpsters that are usually meant for multiple people or for larger-scope projects.
30 Cubic Yards
At 30 cubic yards, you have enough room to clear out entire houses or offices. This is best for any situation where you are focusing on more than just a specific area, like renovating an entire home or trying to get rid of a lot of debris scattered throughout your own property.
40 Cubic Yards
40 cubic yards is the highest that most people will need, and all but the largest companies can make do with these dumpsters as well. These fill up slowly and are perfect for larger projects, as well as multiple smaller projects that might all be taking place over a month or two.
It is important to choose the right dumpster for the job. Just like any tool you can choose, it needs to match your work. Otherwise, you will run into problems further down the line.
© Copyright 2023. All Right Reserved.