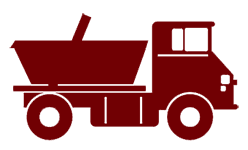 Convenient Dumpster Rentals in Philadelphia and Surrounding Counties.

Nothing compares to the personal customer care we give at Eagle Dumpster Rental, serving all of South Eastern Pennsylvania, Philadelphia, and northern Delaware. All it takes to have all your questions answered is a simple telephone call. We will gladly provide any information you need regarding the use of our service without beating around the bush. With this in mind feel free to contact us with any question you might have.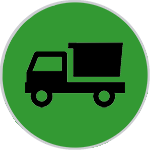 The cornerstone of our service is to make timely delivery and pick-ups. When renting a Roll Off in Philadelphia PA stay clear of companies who cannot deliver what they promise. Our specialty is to be on time, every time, catering to your specific needs.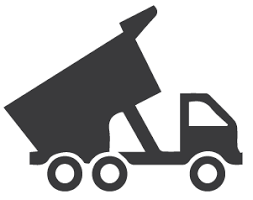 There shouldn't be any doubt regarding the price when renting a dumpster. Our offer will include all the necessary elements without any hidden costs. The only surprise you will have is our affordable prices along with the clear and precise details needed to make a sound decision.
Big projects need big solutions. Don't be caught unprepared when you have large amounts of trash, junk, or debris to move. Contact us the leading professional roll off rental and junk-removal company in Philadelphia. Whether you are in need of small-scale junk removal from a personal home, 20 yard bin rental for a home renovation, or seeking full-service trash hauling for a commercial construction project, We are the go-to company for dumpster rentals in Philadelphia PA.
With main offices conveniently located in downtown Philly, Eagle Dumpster Rental can quickly dispatch crew members for all trash removal and debris hauling needs in Philadelphia and the surrounding areas.
Quick and Effective Tips for Proper Waste Management…
Whether you live in Philadelphia County, Delaware County, Chester County, Berks County, Lancaster County, Montgomery County, Bucks County, New Castle County, or any township/borough in surrounding areas, you may need to rent a dumpster at some point to handle the waste generated by projects such as home renovation or remodeling. We've put together a list of commonly used tips and methods of organization to help make your job easier, more efficient, and to help you save some money along the way.
First and foremost you'll want to do a bit of research as to the different dumpster rental companies there are in your area. There are a few options to pick from, so feel free to call each of them up and go over the information regarding your job. This will help them to get you a price and to help judge the time frame you're looking at for the task at hand. The information you should expect to discuss with a dumpster rental companies is: scale of the job (are you remodeling your kitchen? Demolishing your old house? Digging out a pool?), amount of experience you have (have you ever rented a dumpster before? Are you in the construction business?), some minor details about the are you'll need it delivered to (is it easily accessible by a flat-bed truck?), as well as the type of materials you'll need hauled off. That bit of simple information will greatly speed up the screening process when it comes to looking for a dumpster rental company to handle your job's waste management.
This is also the best time in the process to ask as many questions as you can think of. Ask if you'll be needing permits for your dumpster rental as certain counties will have regulations against placing dumpsters in view of the public eye or if you'll be needing to block off a sidewalk with your dumpster for any length of time. As a general rule of thumb, the more knowledgeable the dumpster rental company is about city rules and regulations, the more experience they have and the more comfortable you should feel with doing business with them.
Finally, express your expectations over the phone. If you have a time frame for delivery or pickup, make it clear that you need it delivered by a certain time and picked up when is most convenient to you. If you need same day dumpster delivery or haul-off, make that clear as well, some companies will be over booked or unable to make the trip that same day. If the dumpster rental company seems to be hesitant to give you firm answers as to a time frame for delivery or pick up, you may want to consider another company. Proper timing is absolutely crucial to construction jobs and a residential/smaller scale rental shouldn't be treated any differently.
Getting Ready To Call for Price Quotes
As we mentioned above you should be prepared with certain information before you call up a Philly based dumpster rental company to make sure everything goes smoothly. The more information you have readily available, the better for both you and the rental company. The first question you'll probably be asked is what kind of materials you're going to be dumping. If it's a kitchen remodel you may be getting rid of some drywall, wooden 2x4s, old appliances (stove, microwave, gas range), old window fixtures etc. Redoing a bedroom may require you to rip out the old carpet padding, carpet, baseboards, etc. A big landscaping job will call for dirt, sod, gravel, grass, tree trimmings, tree trunks, etc. This kind of information will provide good insight into how much weight will be hauled off which directly effects the rental price. At the end of the day, the Pennsylvania dumps charge by the ton of weight disposed/recycled.
The size and composition of the junk you're hauling off will also help them understand how many dumpsters you'll need to rent. The most popular size is the 20-yard haul off dumpster rental variant for both residential and construction type job sites. These allow huge volumes of waste to be loaded up and hauled off without having to bring in the extra heavy duty delivery/pickup trucks which saves everyone involved money. Knowing the materials to be disposed of also reveals whether or not anything will be considered hazardous or toxic which requires special cases to dispose of, however, most residential homes aren't built with these types of materials fortunately. This is more of the case with industrial clients who deal with toxic chemicals or materials.
Finally, you'll just need to provide a time and location for drop off as well as the time frame you'll be needing the rental for. This is one of the final factors to judge price and availability. This also allows the dumpster rental company to check inventory against the date you'll need it to ensure you get the dumpster you ordered when you need it.
Getting Dumpster Rental Price Quotes
Once you've gathered all of this information, it's time to get a list of Philadelphia dumpster rental companies to contact for a price quote. One of the easiest ways would be to talk to friends and neighbors to see if they've ever dealt with this kind of process. Renting a dumpster isn't a typical daily activity so anyone you know who may have rented one in the past will most likely remember the name of the company they worked with. Alternatively, you can ask local businesses or construction contractors as these contacts will be much more likely to have dealt with a Philly dumpster rental company before. If you don't know anyone who has rented a dumpster before, a quick Google search for a local dumpster rental company should provide some pretty good insight. There are plenty of review sites with people detailing their experience with various companies in the area. Cross-check your list of potential companies with the Better Business Bureau website as well!
Once your list is gathered, it's time to call the companies. Make sure and go over all of the questions and details previously discussed to make sure you're comfortable with the answers they're providing. When they provide a quote there are a few bits of information you'll want to go over. Is any part of this price quote variable? Are you going to charge for transportation or disposal overages? Do you charge by the day, the week, the hour? The most common pricing scale is to charge a flat rate for the length of time and size of the dumpster up to a maximum weight limit. Any weight over that (called overages) will be tacked on at the end; this is only because it costs the dumpster rental company more to dispose of excess weight, so if you book a job for 2 tons and end up disposing of 15 the rental company will actually be losing money by doing business with you.
Landfill disposal vs recycling drop off will also have different rates which is why it's important to go over the materials they'll be hauling out of your job site. The more easily disposed of or recycled materials you have, typically the less expensive it should be. Things like large volumes of plastic bags or non bio degradable materials will cost more since they are worse for the environment and have slower and more unwieldy disposal procedures. Other than that, the pricing should be pretty straight forward. The only other standard additional fee that could be assessed is if your job runs longer than your scheduled time frame, but that's the case with any type of equipment rental – dumpster or not.
After you've gone over your requirements with a few different companies and have some price quotes, you're in a position to make a choice. A few things to consider in your mind when narrowing your list down is how the company treated you and responded to your questions. Were they quick to reply and confident of their answers, or did it seem like they were struggling to answer? Were they telling you what you wanted to hear, or how the process actually goes? The rules and regulations set throughout Pennsylvania are very solid and by-the-book, so there isn't really any variance when it comes to waste disposal and the dumpster rental company's answer should reflect that. Keeping all of this in mind, you should have a solid basis to make your informed decision as to who you are going to be renting a dumpster from.
When Your Dumpster Rental Arrives
You've made the call and scheduled your dumpster. Maybe you've placed a deposit on the bin (some companies require this as you are renting expensive equipment from them), and the day comes where you'll be getting your dumpster delivered. If you plan on being on-site during the delivery, you can guide the driver to drop it off in the specific location you'd like, otherwise, they will go off the information you provided when booking the appointment in the first place. Easy access for both you and the driver is important for the safety and convenience of all parties involved at this point. Keep in mind if you change your decision as to where it goes last minute, if the bin is obstructing ANY public place (street, sidewalk etc) you will need a permit to do so which requires at least 10 business days to process. You can find more information regarding the required permits from the https://www.phila.gov/.
Also keep in mind that this is a very heavy, flat bottomed piece of equipment that will be sitting in one spot for a length of time. Avoid grassy or landscaped areas as it will likely kill off any vegetation underneath it for it's duration. Also avoid soft, squishy or moist areas as well to prevent it from sinking in to the land and causing damage. We recommend a few planks of plywood under the sides of the dumpster in order to reduce the surface area contacting your property. Even cement or rock can be scuffed or damage by resting a several ton dumpster on any surface.
Finally, it's recommended that you stop filling the dumpster around 75% of the height of the dumpster. This helps avoid spillage during haul off and transportation as well as leaves room for the cover that will be placed over it prior to pick up. This also helps avoid overage charges as most dumpsters begin reaching weight capacity around 75% as far as the Philly dump is concerned.
The above information should be enough to help you make an informed decision as to which Philadelphia dumpster rental company to go with, what to expect, how to get the best prices, and how to go about actually having the dumpster on your property. Asking a few questions and calling a few companies can save you a significant amount of money as well as streamline the entire procedure, leaving you with less to struggle with and less headaches to handle. Dumpster rental can be an easy and stress-free process and preparing ahead of time will make sure you go with a company who will be able to guide you along the way.
New Location
Eagle Dumpster is proud to announce that we have opened up a new location in Chester County PA. The new location is at 2014 Bondsville Rd in Downingtown PA 19335
© Copyright 2022. All Right Reserved.