With any kind of construction or DIY project, such as a home renovation or clear-out, there will be a lot of waste that you need to get rid of responsibly. When you are working on a large project, hiring a dumpster is recommended for responsible waste removal.
Dumpster rental is the best option for large projects, but you do have a lot of things to consider to get the right dumpster for your needs.
Rental companies have a range of dumpsters available to hire, as they vary in dimensions and volume. Finding the right dumpster for your projects will differ based on how much debris and waste you have to dispose of. Standard dumpster size can vary from 10 yard, 20 yard, 30 yard, and 40 yard in terms of the weight and amount of debris they can carry.
As well as deciding what size dumpster is right for your project, you also should consider the kind of dumpster that will be easiest to use. There are several kinds of dumpsters available, including a roll-off dumpster, commercial, residential, and dumpsters based on waste type like recycling or garden waste.
This can be a lot of things to consider at once, and if you have no experience when it comes to dumpster rental, you will need some guidance.
This article is going to help you find what size dumpster you require and offer the easiest way to calculate your required dumpster size so you will be prepared whenever you next need to hire one, whether that is for commercial or residential projects.
General Dumpster Size Chart
Dumpsters are typically categorized by the amount of debris they can hold in volume at any dumpster rental company. This measurement is given in cubic yards. For example, a 10 yard dumpster will be able to hold 10 cubic yards of debris.
The size of a dumpster will determine what kind of projects they will be suitable for. Here is a quick overview of the different size dumpsters that are available and what they are commonly used for to give you some examples.
This dumpster can handle 10 cubic yards of debris, which translates to 2 tonnes in weight.
This size offers around 3 pickup truck loads of debris, and they are most commonly used for dirt produced during small construction projects.
This size dumpster is best for small, short-term projects such as a garage or home clear-out, room remodeling, or for hauling materials such as brick, concrete, and dirt during construction projects. This kind of dumpster generally measures around 14 feet in length.
This is the standard size of a dumpster that you can hire and is the most commonly used for a range of needs. This size dumpster can be used by homeowners and contractors working on medium-size projects.
A 20 yard dumpster roughly translates to 6 pickup truck loads, and they can be used for a range of waste and debris.
A dumpster that offers 30 cubic yards of volume can provide around 9 pickup truck loads, making this dumpster rental suitable for larger-scale projects.
This kind of dumpster can be used for a whole home renovation project, window and door replacements, as well as a large landscaping project such as cutting down trees.
This is usually the largest size of roll-off dumpster that is available to hire. When there is no other dumpster available to do the job, a 40 yard one will do the trick.
These are the best dumpsters for long-term projects, such as a large-scale commercial project, building demolitions, a home renovation project that may take longer than you would expect, and any other project that requires 40 cubic yards of debris to be removed!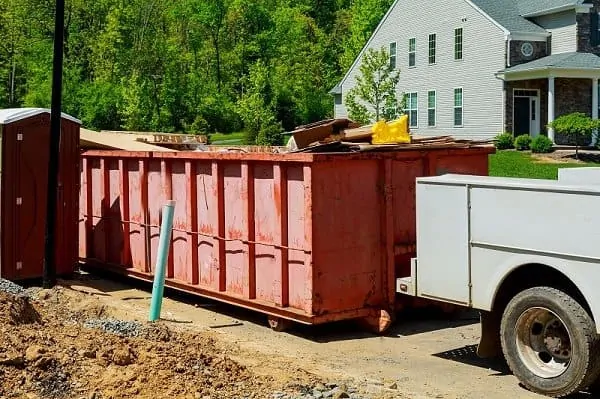 How To Calculate The Right Dumpster Size For You
As you can see, dumpsters come in a range of sizes based on the volume and weight of debris they can handle.
This means that the size of the dumpster that you hire will be determined on how much debris you will be producing and needing to dispose of.
The size of a dumpster is measured in cubic feet, whereas the volume – which is what we have been discussing above – is measured in cubic yards.
Dumpsters are categorized based on how much volume they can carry, which is how much debris they can remove, but you also should be aware of the different sizes of a roll-off dumpster too.
What Does Cubic Mean?
A dumpster is measured in either cubic feet, for the dimensions, or cubic yard, for the volume.
This is because they are rectangular, so they need to be measured in a cube of space. Generally, a cube of space is 3 feet x width of 3 feet x height of 3 feet x depth is 1 cubic yard. For reference, this is roughly the size of a household stove.
With this in mind, the cubic volume of a dumpster – which is how they are categorized – is calculated by multiplying the dimensions of the dumpster.
This can then be converted into cubic yards, which is what you will use to determine what kind of dumpster you need to hire.
For example, to determine whether you need a 20 yard, 30 cubic yard, or 40 cubic yard dumpster for your project, you will need to measure the dimensions of a roll-off dumpster. This will give you a measurement in cubic feet.
The see how much debris the dumpster can safely hold and therefore dispose of, you will need to covert the volume of the dumpster into cubic yards.
Remember that one cubic yard is roughly 3 feet x 3 feet x 3 feet.
Consider The Weight
As well as considering the volume of dumpster that you will need, it is important to think about the weight too.
Chances are the debris that your project causes will have some kind of weight to it. Different kinds of debris will have different weights to them. For example, bricks are going to heavier than leaves, and branches are taken from a landscaping project.
You must estimate how much weight is required to prevent an overcharge or additional fees when hiring dumpsters, as well as ensuring that your waste disposal will be safe to complete.
The ideal size of the dumpster you hire should be large enough to contain all the weight and debris and you have to dispose of with some room left over that can be used for unaccounted waste, which is unavoidable in all projects.
© Copyright 2023. All Right Reserved.