While estimating what kind of dumpster you need is not an easy task, it is something you should spend time on to avoid extra fees.
It is possible to find a dumpster rental company that offers good dumpster fees so you can clear out your home without breaking the bank, but this will not be the case if you do not plan properly.
Failing to plan and estimate correctly before a dumpster rental can result in overage fees, which will be added on to the cost of renting, delivery and removal fees.
What Are Overage Fees?
Overage fees are extra fees that will be added to the final bill of renting a dumpster if the weight or load exceeds what the dumpster size can handle.
When renting a dumpster, there are some rental fees that you automatically have to pay, such as the delivery and removal fees, as well as the cost of hiring the actual roll off dumpster itself.
If you do not plan properly, then you will be charged additional costs if your dumpster is too full or too heavy to be taken away safely.
What is The Weight Allowance Of A Roll Off Dumpster?
Before going through with a dumpster rental, you will need to discuss with the dumpster rental company about the kinds of containers they have available.
Dumpsters come in different sizes, which means they each have different weight and load limits.
To avoid dumpster overage fees, you will need to make sure that you are hiring the right dumpster size based on what you need to get rid of.
This means considering how much debris will be created through the DIY or constriction project you are working on and whether this is safe for the weight allowance of the container.
As a brief guideline, here are the average weight allowances of the different sizes of container:
10 Yard: 2 tonnes or 4,000 pounds
20 Yard: 4 tonnes or 8,000 pounds
30 Yard: 4 tonnes or 8,000 pounds
40 Yard: 6 tonnes or 12,000 pounds
It is important to note that the weight allowance of a container can differ based on the dumpster rental company you use, so make sure to ask for this information before hiring one.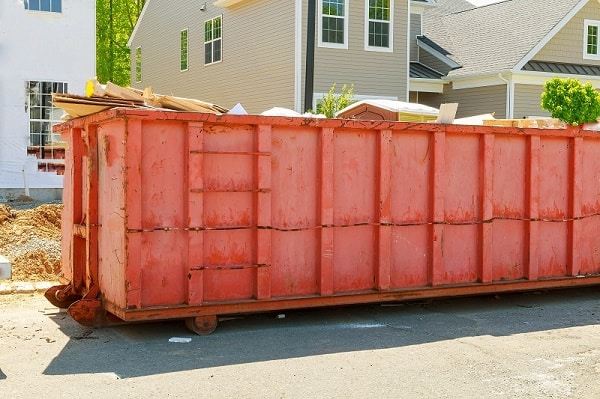 How To Avoid Overage Dumpster Rental Charges?
It is possible to completely avoid additional rental costs when you choose to hire a container for your home clear out, DIY or construction project. It is a matter of careful planning and consideration.
To avoid additional charges, you need to:
Know What You Will Get Rid Of
The kind of debris that ends up in a dumpster will affect how much hiring the container will cost.
Some dumpster rental companies have unique guidelines for different kinds of debris and waste items, so make sure you are aware of these before using them. These conditions will be based on the sort of debris that they can dispose of safely.
Taking the time to consider what kind of debris and waste items you will be throwing away is a great way to estimate what size dumpster you need. If you are getting rid of large household items, such as furniture, then you will need a larger dumpster than someone who is only throwing away sand and dust from a construction site.
Pick The Right Dumpster Size
Now that you have spent some time figuring out what you will be using your dumpster for, it will be much easier to decide what size of dumpster you need to rent and how long for.
The best way to avoid overage fees is by getting a large enough dumpster for all of your debris and waste in the first place. This will save you from having too much weight in the container, and thus having to pay additional charges or having to hire a second dumpster when the first becomes too full.
When you are considering what size dumpster you need, always lean towards the larger option. It is better to have extra room in the container than running out and having to pay for more.
Return The Dumpster On Time
When you go through a dumpster rental, you will notice that there are different kinds of rental periods that you can choose from.
If you are working on a large construction project or home clear out, it is recommended that you rent the dumpster long term to avoid additional charges.
If you cannot get the dumpster delivered back to the rental company on time, you will have to pay extra. This is why you must choose a rental period that offers you enough time to remove all the debris from your site and get your home organized.
Do Not Fill Above The Weight Limit
All dumpsters have a weight limit, and you mustn't go over this when getting rid of debris and waste from your site.
While planning and getting a larger dumpster than you think you need are good precautions to take, sometimes unexpected things happen within a construction project. This can result in additional debris, and therefore more weight, having to be added to the dumpster.
If you feel like you will exceed the limits of the dumpster throughout your project, make sure to hire a second dumpster instead of taking the risk.
Not only will exceeding the limits of the dumpster result in additional charges for you, but it is also very dangerous.
Hiring a second dumpster is an additional cost that you might not have been expecting, but it will work out cheaper than having to pay for overage charges on top of the original cost of dumpster rental.
Final Notes
Before hiring a dumpster, ensure that you take some time to consult with the rental company about the options you have and what size container will be best for you.
Planning is the best way to avoid unwanted charges and ensure that your project will be safe to complete.
© Copyright 2023. All Right Reserved.