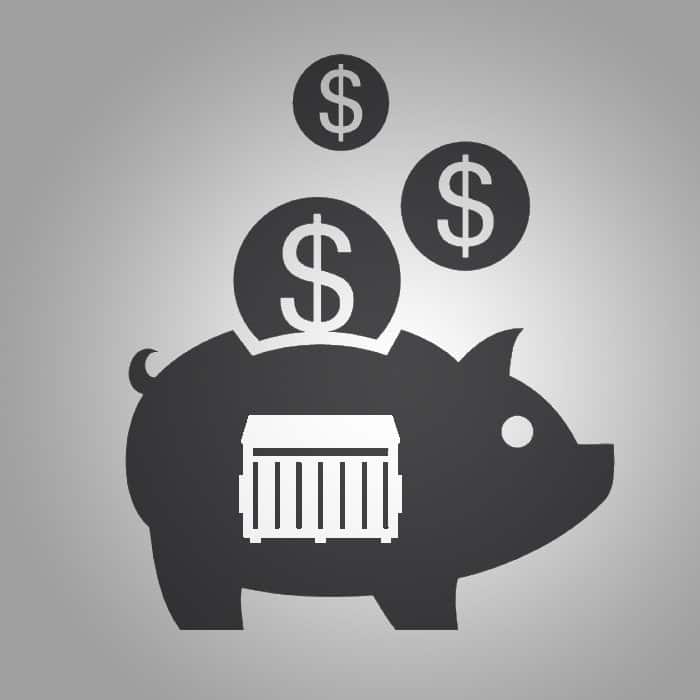 So you've never rented a dumpster before, and you're curious how much it costs. Unless you're a dumpster rental expert, you probably have no idea.
So how much does it really cost to rent a dumpster? Are you paying too much for your dumpster rental? Or did you get a great deal?
Today, we're explaining the average cost to rent a dumpster in the United States.
In the United States, dumpster rentals work out to be about $400 on average.
Of course, that doesn't mean you're going to spend $400 on a dumpster for your bathroom renovation project. When we say the average dumpster costs $400 to rent, that includes 30 and 40 yard dumpsters typically used by construction companies, roofing companies, and other major contractors.
The Average Dumpster Rental Cost Varies According to Size
Here's how size affects average dumpster rental pricing:
10 Yard: $300
20 Yard: $385
30 Yard: $450
40 Yard: $495
Typically, your average home renovation, construction, or cleanup project is going to require a 10 or 20 yard dumpster rental.
Average Costs Include All Fees Associated with Dumpster Rental
The costs listed above include everything you're expected to pay with your dumpster rental, including tonnage fees, delivery fees, and any other surcharges. That's the total price of your dumpster rental, on average.
What Else Do I Need to Know About Dumpster Rental Pricing?
The cost of a dumpster varies widely between different states. Generally, if you live in a state with a cheaper cost of living, you're going to pay less to rent a dumpster. Here are some other important things to note about dumpster rental pricing:
Landfill Rates May Be More Expensive Than You Think – And They're Not Negotiable
After a dumpster rental company picks up your dumpster, they're going to take your trash to a landfill.
If the prices listed above seem expensive, it's because they include landfill rates, which are the single largest factor impacting your dumpster rental cost. Your debris gets weighed at the landfill, and then the dumpster service pays the landfill directly for getting rid of your debris. Unfortunately, this is an unavoidable cost.
Local landfill disposal rates vary widely. Typically, it costs about $35 to $100 for dumpster rental companies to dump 1 ton (2000 pounds) of waste at a landfill.
Keep in mind that landfill rates are almost always more expensive in heavily populated areas. If you live in a big city, or a heavily populated region (like the East Coast), then cheap dumpster rentals are nearly impossible to find – even if the dumpster itself is cheap, the landfill fees will not be cheap.
Believe me: dumpster rental companies dislike high landfill fees as much as you do.
Your Dumpster Rental Prices Includes a Certain Amount of Weight
When a dumpster rental company gives you a quote, that quote typically estimates a certain amount of weight.
Many homeowners are unsure how to assess the weight of their waste. Typically, junk from your home will stay fairly light. If you fill up the dumpster with household waste, it shouldn't weigh more than 1 to 2 tons. However, once you start mixing in heavier waste – like roof shingles, concrete, dirt, or construction debris, then you can quickly bump up to 3 or 4 tons.
Your quote will clearly list the number of tons included in your estimate. Listing 2 or 3 tons is particularly popular.
You Pay More for Remote Delivery
If you live in a rural location, or far away from a big city, then you need to pay a dumpster delivery truck driver to come all the way out to your location. That costs more money.
By keeping all of the above things in mind, you can get the best possible rates on dumpster rentals in your local area. For fair-priced dumpster rentals in Philadelphia, Southeastern Pennsylvania, and Delaware, contact Eagle Dumpster Rental today.
© Copyright 2022. All Right Reserved.