When you look into dumpsters to rent, you will notice that there are several main sizes available. A 20 yard dumpster is the most commonly hired container as it is versatile and is widely available in all areas.
Dumpsters for rent are categorized by the volume they can hold, which means that a 20 yard roll off dumpster can hold 20 cubic yards. This statement will certainly amount to many questions from those who are looking for dumpster rental, because what does 20 cubic yards actually look like?
To help you find the right dumpster for rent, whether you are doing a clear out, home renovation, or remodeling, we are going to show you what a 20 yard dumpster can hold.
Why Get A Dumpster To Rent?
Whatever kind of project you are working on, whether that is a home renovation, remodeling, or clear out, you will need a responsible and safe way to dispose of the waste you accumulate.
Regardless of the size of the project, you are working on, looking into dumpsters for rental is the best thing you can do as it will ensure safe waste disposal and can save you time and money.
Dumpster rental allows you to dispose of a lot of waste, debris, and materials at once.
There are different sized dumpsters that you can hire for your project, each with a varying weight limit, as well as an adjustable rental period.
This is a convenient service that can provide delivery and pick up of any waste that has come from your DIY projects or construction projects, ensuring that it is handled responsibly.
With a dumpster on site of your projects, waste will not pile up and cause hazards. Instead, it can be stored in the roll off container ready to be disposed of responsibly by the dumpster rental company at a later date.
While there are several sizes of dumpsters available, 20 yard dumpsters are the most common option for home projects.
20 Yard Dumpster Dimensions
To determine whether a 20 yard dumpster is the right option for your project, we need to take a closer look at the dumpster dimensions.
It is important to note that 20 yard dumpsters may vary in their design, based on the dumpster rental company you choose, but all dumpster sizes are universal.
This means that regardless of where you get your 20 yard dumpster rental, the roll off container will be approximate:
22 x 8 x 4.5 foot (L x W x H)
Some dumpster rental companies will specialize in residential dumpster sizes, which means that if you are working on a home renovation project these containers will be the most suitable for your needs.
Rather than offering a traditional 20 yard roll off container, when you rent this kind of 20 yard dumpster, it will be uniquely designed to suit residential dumpster placement.
Some dumpsters, while still being the universal 20 yard dumpster, may be shorter in length with taller sides to allow for safe residential placement. This means you do not have to disturb your neighborhood or worry about where the container will be stored while your project gets underway.
A traditional 20 yard roll off dumpster may still be a good option for your work, as the options may vary based on the rental company you choose. This is why you should plan and arrange with the rental company the best options for you, based on your location, home size, and so on.
Regardless of the design of your 20 yard dumpster, it will still be able to hold 20 cubic yards in volume.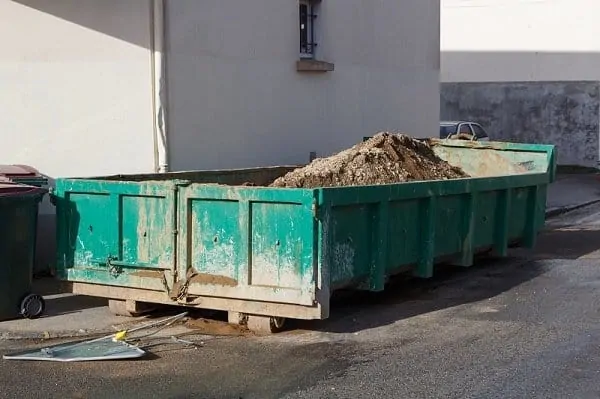 20 Yard Dumpster Weight Limit
The weight limit of a roll off dumpster should be discussed before hiring it, as this will impact how much waste and debris the container can hold.
While a 20 yard roll off dumpster is large enough and strong enough to hold upwards of 10 tonnes of weight, this is never allowed by dumpster rental companies. Weight limits are in place to ensure that the dumpster can safely store and then dispose of any waste, debris, or materials that you have in it.
You should ensure to not go over the weight limit when renting a dumpster, as this can result in overage fees and will slow down the progress of your projects.
There are three main reasons why dumpster rental companies have strict weight limits for their containers:
The lifting and hauling capacity of the pickup truck needs to be able to handle the weight of the dumpster and debris
The hauling weight limits of your location, state, or country which may vary
The cost of landfill per tonne, which is how rental companies are charged. Without customer weight limits, these companies would face much higher costs and charges
With this in mind, a standard 20 yard dumpster rental will have a weight limit of between 2 and 8 tonnes, depending on the rental company's rules.
You will need to make sure that the haulage company can handle the kind of waste and debris you are getting rid of, as there are also restrictions on the type of materials that can be hauled by certain companies.
For example, some waste is heavy and dense, like roof shingles or concrete. With these kinds of materials in a 20 yard dumpster, the weight can add up very quickly, and you may not be able to get rid of as much as you would expect.
This is why it is important to consider a wide variety of options when looking to rent a 20 yard dumpster, as based on the kind of work you are doing, your needs with differ.
With a large construction project that will have heavy-weight waste, make sure to get a container with the highest weight limit possible.
Overage fees will be charged if you go over the weight limit of the one you rent. These can range from $50 to $100 and are something you should avoid at all costs, which is why you need to consider the weight limit.
What Fits in A 20 Yard Dumpster?
A 20 yard container is medium-sized and can hold 20 cubic yards of volume.
We understand that this is not necessarily something you can picture, so the following are some great projects to use a 20 yard dumpster on:
Large basement, garage, or attic clear-out
Moving homes and clearing out
Complete kitchen or bathroom renovation
Whole-home decluttering
Whole-home flooring removal and replacement
Deck or shed demolition
20 yard containers hold 20 cubic yards in volume. This can be quite difficult to picture, which can make it hard to plan for the right-sized dumpsters for your site.
1 cubic yard takes up 3 x 3 x 3 feet of space. This translates to approximately:
A kitchen stove is 1 cubic yard
A standard sofa is 3 to 4 cubic yards
A refrigerator is 2 cubic yards
A small car is 15 cubic yards
One cubic yard translates to an average kitchen stove, so a 20 yard container can hold 20 times this in volume.
These kinds of dumpsters can be used for almost all non-hazardous waste, such as:
Construction debris and materials
Household junk
Furniture
Carpeting, wood flooring, and tiles
Kitchen cabinets
Any kind of waste or debris that you can imagine coming from a home renovation or clear out is suitable to be held in a 20 yard container.
Are 20 Yard Dumpsters Right For Me?
With this information in mind, you can now work out whether this sized container is the best one for your needs.
If you are looking for the best dumpster prices near you, please call us to discuss your options.
Our customer service team will be able to help you organize waste removal and dumpster rental for your project, as well as answering any questions you may have, to ensure that it all runs smoothly and safely.
© Copyright 2023. All Right Reserved.