Eagle Dumpster Rental, one of the leading waste removal companies in the US, was named the fifth-fastest growing company in Northeast Ohio, according to Crain's Cleveland Business 2016. 
This is the second consecutive year that our company has been awarded this title, and we were listed as number five on their list of 52 companies from across the country. 
Eagle Dumpster Rental has retained this high-ranking position by registering a 713 percent growth between the years 2012 and 2015. 
Bridgeville, Pennsylvania and the Bridgeville area are within our same day and next day delivery radius at Eagle Dumpster Rental, meaning customers like you enjoy low rates and fast service anywhere in the borough of Bridgeville.
Eligible companies for this list must be privately held, at least five years old, and based in Northeast Ohio. The companies must also have posted at least $5 million in revenue for the year 2015 and must not have experienced more than one year of declining revenue over the past five years. 
Since the inception of our company, which was founded by Mark Campbell and co-founder John Fenn, Eagle Dumpster Rental has seen double-digit revenue growth, including a 45% growth in 2015.
This is because the company has tapped into innovation with the waste removal industry, roll-off dumpsters, which continues to help us stand out from the competition.
You can learn more about Crain's 52 list and the other companies featured on Crain's Cleveland Business website.
About Eagle Dumpster Rental
Established in 2009, Eagle Dumpster Rental delivers affordable waste removal strategies and roll-off dumpsters to 49 states. We work with most major markets in the US and continue to have a high percentage of repeat customers.
Eagle Dumpster Rental works with over 250 local partners, which allows us to sell thousands of temporary roll-off dumpsters each week for projects big and small.
The company is based in Cleveland and has a growing team of 65 employees, with more expected to join the team in the future as we continue to grow. 
Eagle Dumpster Rental has been recognized as one of the fastest-growing companies in America by many reputable publications and organizations. Following the success and growth of Eagle Dumpster Rental, the company has been recognized as one of America's fastest-growing companies by Inc. 500 (where we were listed as 873 in 2016) as well as one of the top five fastest-growing companies in North East Ohio by Crain's in 2015.
Our company has also been named as one of the largest recycling firms in America overall, where we ranked 67th in 2016. 
This is not the end of the accolades for Eagle Rental Dumpster, however.
Not only do we provide a great service to our customers and have been recognized for this, but we also do great work for our employees. This is what led to us being awarded as one of Fortune's Most Flexible Workplaces in 2016, and we continue to strive to provide a flexible workplace for our employees.
As an award-winning company, Eagle Dumpster Rental continues to maintain our good reputation, and we work to serve all of our active states with an excellent rental service. We provide a range of waste removal services and are renowned for our dumpster rentals, which are the main focus of the business.
What sets us apart from other companies in the industry is the fact we offer roll-off containers to our clients across the 49 active states we work in.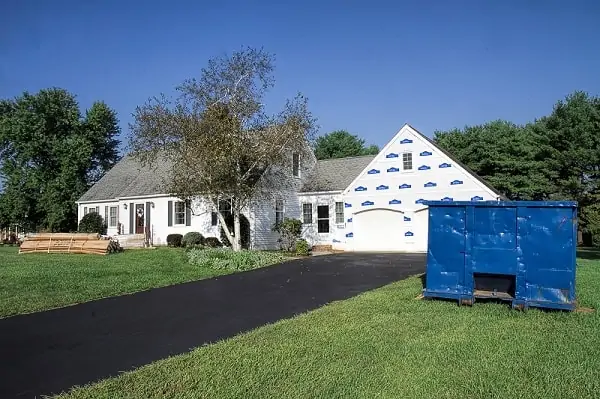 We have a variety of sized containers available to our clients to ensure that we can meet all needs, whether big or small. We serve both commercial and residential clients across the 49 states and can provide sustainable waste removal services to suit your needs.
If you are looking for a reliable dumpster rental company, then you have come to the right place. Eagle Rental Dumpster is an award-winning name in the industry, and we continue to be one of the leading providers of dumpsters in the US.
Work With Us Today
If you are looking for a reliable dumpster rental service near you, then Eagle Dumpster Rental is the best company to consider.
We are an award-winning company that serves 49 states and work with local partners to provide the best service possible. Our roll-off containers come in varying sizes, starting at 10-yard dumpsters, to ensure we can meet all the needs of our clients.
Eagle Dumpster Rental works with both commercial and residential clients across the country, as well as partnering with 250 local groups in Cleveland. 
Following our founding in 2009, this company has continued to innovate the industry and set the standards for all other dumpster rental services. We started by using roll-off dumpsters to provide a wider range of clients with sustainable, reliable waste removal services, and our influence can be seen across the US.
Our reputation speaks for itself as Eagle Dumpster Rental continues to be an award-winning company and is renowned for being one of the fastest-growing names in the country.
The Eagle Dumpster Rental team, based in Cleveland, continues to grow and our accolades for being a flexible workplace make us an asset to the local community.
Whether you are interested in working with us as an employee or are looking for a reliable waste removal service, we can help. Check out the Jobs page on our website for more about our current vacancies and opportunities.
We can provide a free quote to new customers regarding the cost of our containers and the hire charges. Use your zip code to receive a quote.
© Copyright 2023. All Right Reserved.